Women in Technology: Hazel Quimpo
Liquid Web's Digital Marketing Director for StellarWP on community, helping small businesses, and what brings her joy.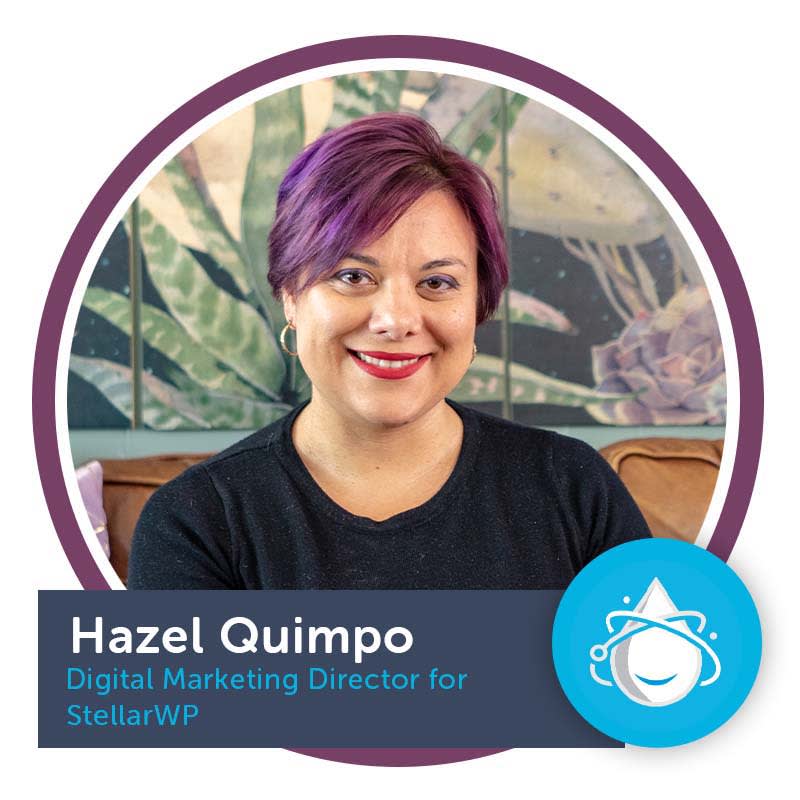 Born in Turkey, Hazel Quimpo had the childhood of a military brat. However, after landing in Long Beach, California for college, she fell in love with the city and has stayed ever since. Even as a child, Quimpo had entrepreneurship and marketing in her bones. "As a teenager, I spun up my first business using my photo scanner to design custom pages to add to a yearbook," she says. "That's when I fell in love with all the businesses tech can open up." 
Hazel has worked in tech for over a decade, first as a Community Manager for Yelp during the 2008 recession. "I was so excited about the opportunities to use Yelp as a new tech tool that could really add rocket fuel to all of these small businesses when they needed it," she says. Growing the Los Angeles area Yelp community by enormous percentages and breakneck speed remains one of her proudest career accomplishments. 
After working for Yelp, she consulted with several consumer and business startups, from a childcare app to WordPress plugins. This is what led her to Liquid Web. "When Stellar WP acquired The Events Calendar in late 2020, I saw all of the great opportunities to grow these fantastic WordPress businesses even further," she says. 
Quimpo serves as the Digital Marketing Director for Stellar WP, Liquid Web's umbrella brand for premium WordPress solutions. "I wake up every day thinking of ways to share how great our solutions are for building websites and marketing organizations," she says.
But she has fun with her work, too. "Last year with The Events Calendar, I led a project to do an entire community promotion around a silly pun: The Events Colander. We printed actual calendars with inspirational quotes and colanders and had a website experience to go with it. It was so silly but very successful with lots of folks excited to be part of the calendar on social media." 
Above all, Quimpo loves the ingenuity that comes along with working in the tech field. "My pet peeve in life is doing something just because that's the way it's always been done," she says. "So what I love most about working at a tech company—and especially with all of these StellarWP brands—is they are always working to make things better. The nimbleness of tech companies and the swift pace and openness to wild ideas keeps the work fresh and exciting." She also profoundly loves that tech allows her to connect with other people. "I love community," she says. "It's part of what I love about WordPress. Connecting people via marketing and community has been one of my great joys in life."  
Quimpo attributes much of her success to her family. "My husband has kept a nice steady career within one company throughout our relationship while I've hopped around dozens of different jobs and freelance gigs," she says. (Theirs is a memorable match. Quimpo met her husband on a Weezer message board. At their wedding, she walked down the aisle to the band's song "Only In Dreams.") "My mother is also a major part of my career success, too," Quimpo says. "She has come to live with our family over the past few years and has been instrumental in giving me the time to work while still having time to spend with my family." Quimpo's favorite way to spend time with her family lately is paddleboarding with her husband, Mike, and their children Zelda and Miles. 
When asked about the future of women in tech, Quimpo has nothing but optimism. "I realize I fulfill a sort of cliche role as a Woman in Tech… in marketing," she says. "But in the past ten years, I've noticed a greater and greater percentage of women at the table in tech companies from strategy to hands-on engineering. So I think there are lots of interesting opportunities to level the playing field—in AI especially. Artificial Intelligence has been largely built from a traditional cis-male point of view, but attracting women and other voices to the mix when it comes to AI is going to be a game-changer for technology." 
She says that this diversity is necessary if tech is to continue to flourish. "We need more people at the table. Here's what I say to young women—We all know a mediocre dude who has excelled in their career despite himself. Have the confidence of that mediocre dude—and then some. You don't know less than everyone else. We're all figuring things out—and we can figure things out together."